Gym Milestones
Was a pretty good gym session on Monday night.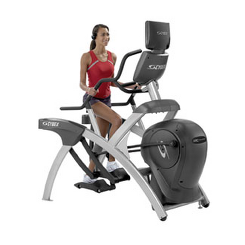 First up, was my old friend the Arc Trainer.  I've stopped using it since starting running, as most of the guides suggest to avoid using stair masters as cross-training – too similar to running.  But I was feeling like a change of pace and the bike continues repel me like garlic repels a vampire.  So I decided, 'What the hey, I'll take it easy on the Arc Trainer, see how tough it is now that I haven't touched it in 8 weeks..'.  When we last left it, those 8 weeks ago, I was about 14 pounds heavier and just about doing OK on Level 6.
I kicked it off on Level 4 for approximately 4, possibly 5 seconds.  Then I said, 'Whoa this feels easy!' and promptly kicked it to 6.  Let me tell ya, I was on fire.  I R-I-P-P-E-D  through it.  It's an interval program, I was cranking out 180 steps a minute on the low resistance levels.  I was cranking good on the high resistance levels.  When I hit half-way, I was like 'WOW, already!?!'  When my phone rang during one of the high resistance times, I answered and spoke without breaking pace (wrong number).  I possibly made the woman next to me cry.  (I was sweating heavily, I really maybe did.  And yes, the infamous pools were there.)
But that's not all folks!  Order now and receive a bonus can opener!  Wait, that's not right.
Coming off that, we had…
<drum roll please> ….
unassisted pull-ups and chin-ups.  Now, I'll be first to admit, they weren't the prettiest or cleanest sets by any means.  The chin-ups were alright, the pull-ups, less so.  One thing using the assistance does is it provides balance as well as support, so I'll have to work on them a bit.
An oldie (well by the definitions of techno) but a goodie: